Search & Filter is a simple search and filtering plugin for WordPress.  It is essentially an advancement of the WordPress search box, adding taxonomy filters & post filters to really refine your searches.
You can search by Category, Tag, Custom Taxonomy, Post Type, Post Date or any combination of these easily – you can even remove the search box and simply use it as a filtering system for your posts and pages.
Download
Grab the download any of these sources:
How To Use
To display Search & Filter all you need to do is a use a shortcode:
[searchandfilter fields="search,category,post_tag"]
This will display a search box, a category dropdown and a tag dropdown. You can use the shortcode within posts/pages and widget areas.
To use this within a theme file you simple need to call the `do_shorcode` function with the shortcode above within the theme file:
<?php echo do_shortcode( '[searchandfilter fields="search,category,post_tag"]' ); ?>
Documentation
Official documentation can be found on our docs site which contains usage examples and advanced settings & features.
Screenshots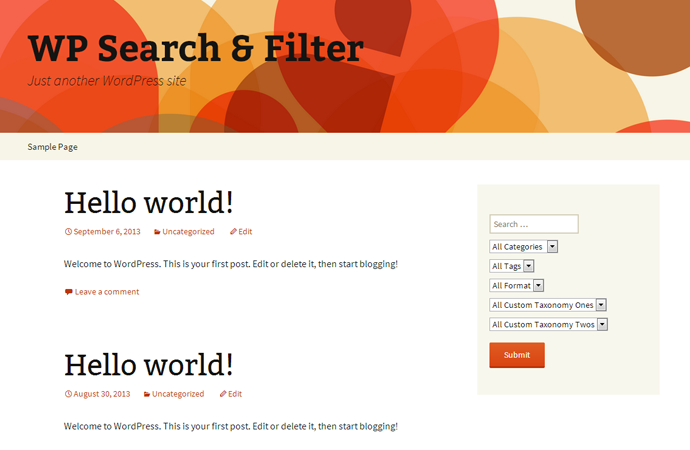 Need More?
Search with Ajax
Add Multiple Forms
Search Post Meta Data and Custom Fields
More field types and comboboxes – with Range Sliders and Range Fields for Meta Data
Drag and Drop user interface – makes it incredibly easy to build a granular search form
Dedicated Support
Support
The best place to get support for this plugin is over on the WordPress support forum.  I can't guarantee lighting fast responses but I do my best to check there and respond to any queries,
Links
– Official Documentation
– WordPress.org Plugin
– Github Project